A Team-Building Adventure You Will Cherish Forever
There is greatness in us all, but not without each other. At Western Destinations, our goal is to help your team find their greatness, both individually and collectively. Our team building professionals will work with you to design the corporate experience that is best suited to your company's unique needs and goals. Whether you are looking for a team-building adventure, leadership retreat, employee appreciation thank you, or just a great location for a corporate party, we are exactly what you are looking for. Choose from a variety of outdoor activities and competitive events that will foster trust and collaboration among members and build fantastic memories for years to come.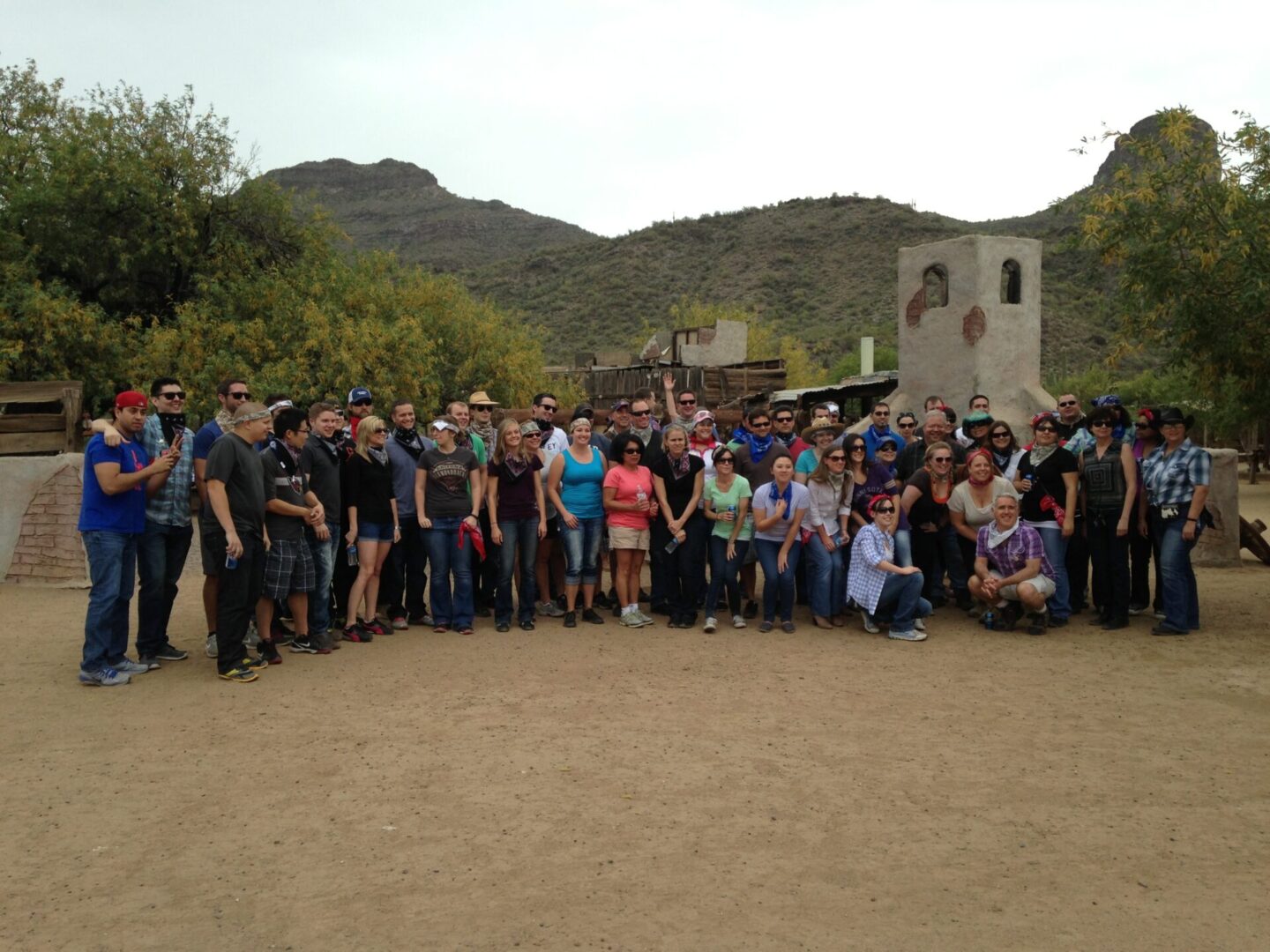 How We Achieve Greatness:
At Western Destinations, our goal with every Corporate Adventure is to help each company achieve greatness. We do this by targeting the physical and mental aspects of each participant as both an individual and part of the greater collective.
Our program focuses specifically on:
a) Aligning effective leadership to meet organizational objectives and improve engagement
b) Providing the mind/body experience necessary to increase engagement and empowerment
c) Utilizing unique interactive methods to create a program customized to your specific needs
Having Fun, allowing your team to build lasting relationships, reduce turnover and brain drain, and promote and align functional and company-wide objectives.
"*" indicates required fields
All Team Building Adventures are uniquely customized to the company's specific goals. We serve local, national, and international companies and can design a program to fit any schedule.
In order to promote competition and collaboration, corporate groups are separated into teams for the duration of their stay. Teams compete against one another by earning points at various circuit stations. At mealtimes, around the campfire, and during the final branding ceremony, the entire group comes together to network, discuss their experiences, and enjoy the company of their colleagues and our professional wranglers.
Pricing, duration, and the number of stations vary depending on the number of people, length of stay, and goals of the company.
All of our Corporate Activities are uniquely customized to your company's goals and time frame. Whether you are looking to build team unity, expand leadership roles, or just have a great time, we have the activity for you!

Our Authentic Cowboy Games are the Real Deal: All the Activities Real Cowboys Needed to Know Back in the Days of the Old West: Pistol Shooting, Axe Throwing, Ropin', and So Much More!
Very Few People in Today's World Have Actually Handled a Shotgun, Much Less Had the Opportunity to Shoot at a Moving Target. People May Be Intimidated at First, but Once They Step Up and Yell, "Pull!" It Is Hard to Get Them to Put the Gun Down. A Safe, Friendly, and Fun Activity for Old and Young Alike.
Horseback Riding with Challenges
Led by Our Expert Wrangler Guides, Who Give the Team Various Timed Challenges to Complete on Horseback. Our Team Building Horseback Rides are Fun, Safe, and Engaging.
If You Are Ready for Some Serious Laughs and Lots of Excitement, Nothing Promotes Engagement Like a Foot Rodeo. Participants Are Divided Into Teams and Have to Work Together to Separate Their Assigned Cattle from the Herd. The Perfect Audience/Group Participation Event and Real Fun to Watch!
Are You Ready for a Major Challenge and a Ton of Fun? Our Arena Challenge is for You! Participants Put All Their Skills to the Test as They Guide Their Horses Around a Timed Obstacle Course.
Our Saddle Scramble Is One of Our Most Popular Events! Teams Have 60 Seconds to Examine a Complete Saddle and Ask Our Saddle Experts Questions. They Are Then Assigned a Deconstructed Saddle and Appointed a Team Captain. At the Whistle, Teams Head Out to Find the Missing Parts of the Saddle Hidden Throughout Coldwater Creek, Returning as Soon As They Can to Put Their Saddle Back Together. To Stop the Clock, the Team Captain Must Jump on the Saddle without It Falling Apart! This Challenge is Good Ol' Fashioned Fun!
*Only Available at our Flying E Ranch
Are You Looking for a Fun Activity the Whole Group Can Participate In Together? Do You Want to Experience a True Cowboy Calling Card that Is a Little More Challenging than Simply Horseback Riding? If So, then the Cattle Drives are Perfect for You! An Amazing, Safe Experience that Builds memories to last a Lifetime!
And So Much More!
For a Complete List of activities or to Schedule a Complimentary Site Visit, Please.
Contact Us Today!
Western Destinations offers a distinctive selection of southwestern venues for weddings, receptions, and rehearsal dinners.
Whether you are looking for an outdoor venue that capitalizes on the beauty of the Sonoran desert or an authentic cowboy experience that encompasses a taste of the Old West, each of our unique locations offers the perfect setting for a dream wedding. Join us! Have the wedding and build the memories that you and your guests will cherish for a lifetime.
Aside from excellent customer service and a true taste of the Old West, one thing Western Destinations absolutely guarantees is a good time.
Whether you are planning a wedding, anniversary, birthday, reunion, retirement, or any other type of party, our phenomenal locations and an unparalleled selection of Authentic Cowboy Games and Entertainment makes us your one-stop shop for a perfect party. Join us today, and let us make your next get-together the best one yet!